Hemkund Sahib Yatra by Helicopter with Valley of Flowers: Same Day
Hemkund Sahib Yatra by Helicopter with Valley of Flowers Price:
@INR 3,70,000 Full Charter

(All Inclusive.) Duration

: Same Day

Destination

: Dehradun – Ghangaria Helipad - Dehradun

One can divide Hemkund Sahib Yatra into three parts. One's journey till Govindghat (275 km from Rishikesh), the 13 km trek from Govindghat to Ghangaria village, and the remaining 6 km trek in which one ascends over 1,100 m till the Gurudwara. Since there is no provision for overnight stay and halting at Gurudwara premises during night is banned, one ought to descend till Ghangaria on the same day. If you choose to travel to Hemkund Sahib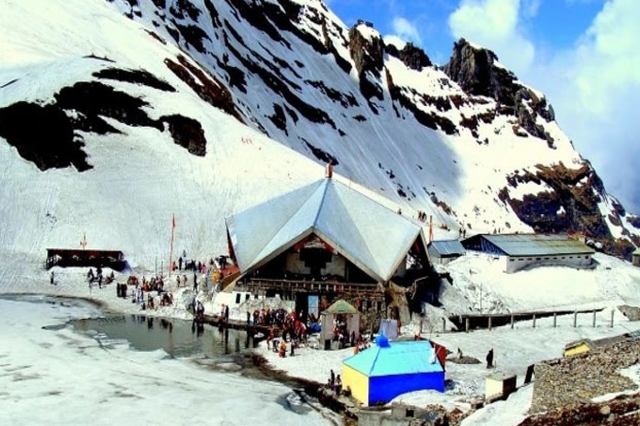 on foot, know that the trek is of two days.
Day 01: Dehradun – Ghangaria

Our journey begins from Sahastradhara Helipad, Dehradun. Pilgrimages need to begin as early as possible. That's why we insist that our guests wake up early and arrive at Sahastradhara helipad well before the scheduled departure time at 6:30 am. Before the actual commencement of the journey, the Pilot and ground staff would brief you on the dos and don'ts of the journey.
6:30 am Departure from Sahastradhara Helipad, Dehradun
An hour of journey above the clouds would fetch one till Ghangaria Helipad. If this is your first helicopter journey over Himalayas, the bird's eye views of the valleys and peaks of majestic Himalayas and Valley of Flowers would blow your mind! If it isn't, well you know what we are talking of!
7:30 am Arrival at Ghangaria Helipad
Once you arrive at Ghangaria Helipad, ponies can be arranged to help you travel till Hemkund Sahib. Unless you want to trek the remaining six kilometers on foot so as to taste what it feels like to be on a foot pilgrimage.
After paying obeisance at the sacred site and breathing in its holy air, you can trek down till Ghangaria Helipad.
3: 00 pm Departure from Ghangaria Helipad
4:00 pm Arrival at Sahastradhara Helipad
We will part ways at the same spot we began the journey from in the morning, having completed one of the most beautiful pilgrimages one can undertake in one's lifetime. Thank you for choosing us to guide you!
. GUIDELINES FOR PASSENGERS

In Hemkund Sahib Yatra by Helicopter is very limited space for luggage in the chopper. Only 5 kg luggage per passenger will be permitted. Passengers bringing excess baggage would not be al-lowed to take the same in the chopper.
In Hemkund Sahib Yatra by Helicopterr 2021 - Passengers should carry only handbags as suitcases cannot be kept in the helicopter.
At these locations, it becomes cold throughout, so passengers must carry woolen clothes with them.
Children above the age of 2 years will be considered full ticket.
There is no provision of concession to children or senior citizens.
CANCELLATION POLICY
If passengers wish to cancel their booking then they will have to pay following cancellation charges:
Within 30 days before Journey --- 30% of amount.
Within 15 days before Journey --- 50% of amount.
Less than 10 days before Journey --- No Refund.
BAD WEATHER SITUATION
If you are stuck in a bad weather situation, we will still try to finish the darshan on next day . In case we are completely unable to visit any dham due to bad weather situation we will refund proportionate money acc. to the flying time.